Wanting to help UCHS teachers and staff to get the 2022-2023 school year started with the knowledge of your appreciation of their work to create a supportive learning environment for our children?

On Wednesday, August 24th from 8:30am to 9:30am, the UCHS PTSA will host a grab and go breakfast and we will be able to do it with your help – either by a food item donation or volunteering your time at the breakfast.

Click on the sign-up button below to volunteer for particular items. Delivery of the items can be done on Monday, Tuesday, or Wednesday depending on which item you choose to get.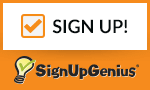 Thank you and we look forward to having you sign up as soon as possible and commit to items on the sign-up list, so that we can be sure to have an assortment of breakfast items.

Together, we are the UCHS PTSA. UC-U Know!